source: http://www.anandtech.com/show/11210/the-intel-optane-memory-ssd-review-32gb-of-kaby-lake-caching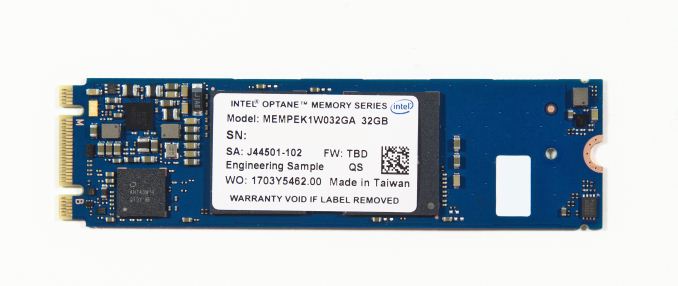 Quote

As a cache device, the Optane Memory brought a hard drive-based system's SYSmark scores up to the level of mainstream SSDs. These averages do not capture differences in the latency distributions of the Optane cache+hard drive configuration vs a flash SSD. In the Optane+hard drive configuration, a cache hit will be almost 1000 times faster than a cache miss, resulting in a very bimodal distribution. The flash SSDs mostly occupy the territory between the performance of Optane and of the hard drive. It's possible that a mainstream flash SSD could deliver a user experience with fewer noticeable delays than the Optane caching experience with the occasional inevitable cache miss. Overall, however, the Optane cache delivers a remarkable improvement over just a hard drive, and the 32GB cache capacity we tested is clearly large enough to be of substantial use.
this looks like it's the 1st time, Intel delivers compelling caching
Anand'd engineering sample did not survive the 1st day of testing, but they were able to get some interesting results with BAPCo SYSmark:
Spoiler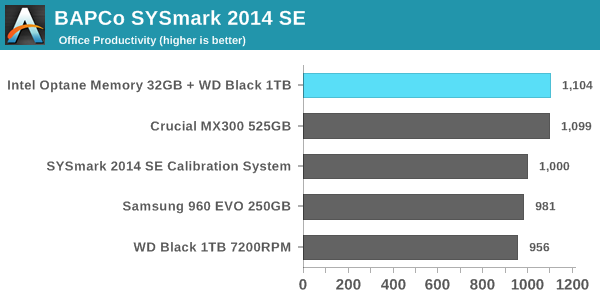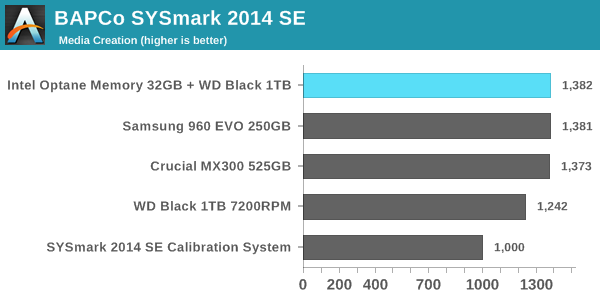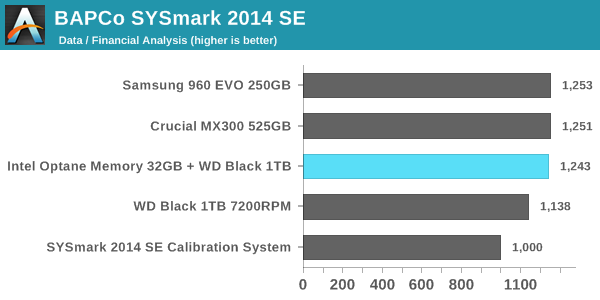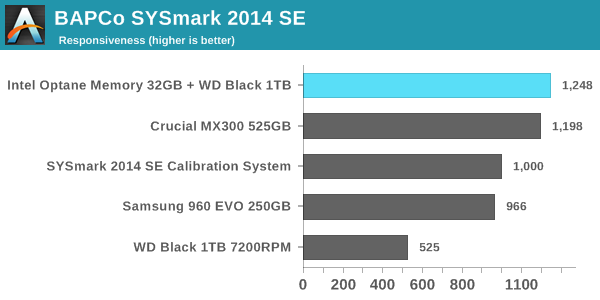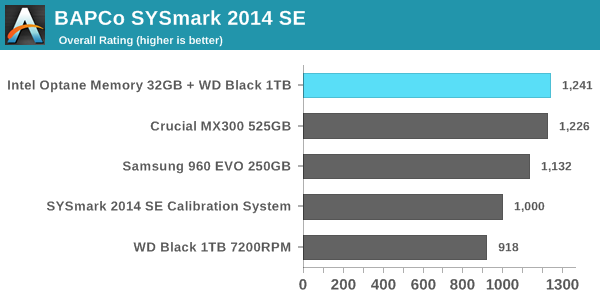 further testing needs to be done, but the initial impressions are quite remarkable – if a 32GB Optane cache drive can mimic the performance of a mainstream NVMe drive, the future looks bright
the future looks bright especially for laptops
—
PCPer has their own review: https://www.pcper.com/reviews/Storage/Intel-Optane-Memory-32GB-Review-Faster-Lightning
Quote

We tried to go a bit heavy on some of the operations we attempted to really push the Optane Memory system as a whole. The general consensus is as follows:

SATA HDD speeds are brought to match SATA SSD speeds.
SATA SSD speeds are in some (few) cases accelerated even further.

Yes, you read that right, SATA SSDs can be accelerated by Optane Memory and in some cases the end result beats even an NVMe SSD (in this case, the 960 EVO!).
Spoiler
Quote

Final Thoughts:

I knew XPoint was going to enable all sorts of performance gains to storage systems, but I honestly did not expect Optane Memory to net such large benefits and to do it so well. While previous hybrid/caching technologies have been decent, the outstanding latency of XPoint enables an Optane Memory cache to boost HDD systems to meet or even exceed the performance of NAND-SSD equipped machines! While the intended market is clearly as an upgrade to HDD-only systems, measurable benefits can be seen even when caching a SATA SSD. When paired with a budget SATA SSD, we saw boot times cut in half and coming in nearly a second faster than a NAND-NVMe SSD! Overall I am extremely impressed with the performance benefits and implementation of Optane Memory.