QNAP, the famous NAS manufacturer, has just revealed their first network switch. Their first switch is called "QSW-1208-8C", a 12-port-10GbE unmanaged switch. It has 4 SFP+ 10GbE port, and 8 SFP+ ports and 8 10GBase-T RJ45 port, which you can use either SFP+ or RJ45, but not at the same time for each port (Remember this is a 8 port switch!). It also come with a low noise design, nicely-crafted chassis, and a switching capacity up to 240Gbps.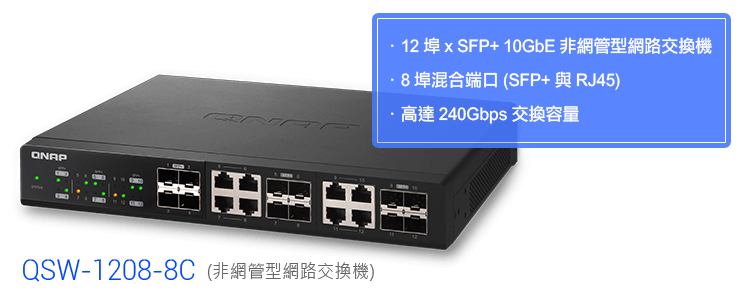 Pricing and release date is still unknown at this moment, but QNAP is launching a public testing program for this switch in Taiwan, which you could apply, and buy the switch for NT$8800 (~$290) if you attend a 10GbE event held by QNAP in Taipei on 3rd May. In that event, QNAP will be showcasing their 10GbE solutions and accessories in different environment. Noted that this public testing only takes 100 people, and pricing may be higher than NT$8800 when it officially launch. No words on whether this public  testing program will launch elsewhere in the world.
The 10GbE event page is in Chinese, but a reddit user "dunkurs1987" translated the portion about "QSW-1208-8C" in English.
Quote

Qnap Switch
Join the 10GbE Switch – QSW-1208-8C mass test program
Participants who will participate in the "2017 QNAP Forward Program" will be eligible to participate in the QSW-1208-8C Mass Test Program. QSW-1208-8C is QNAP's first 10GbE 12-port standard network switch (Unmanaged Switch), supports up to 240Gbps switching capacity, including up to 8 ports mixed port (SFP + and RJ45), plug and play to meet the high-speed Network resilient deployment needs. Ingenious appearance, low noise design and affordable prices, suitable for corporate offices can also be integrated into the home environment. Participate in the public test plan guests, that can be ultra-low price will QSW-1208-8C back to use.

QSW-1208-8C mass test program:
Public Price : NT 8,800 (tax included)
Number of activities measured limit: 100 units
QSW-1208-8C provided by this activity, all enjoy 5 years warranty, and 30 days trial period free return
Welcome to participate in the public test program guests, will use the proposal after the letter to pm@qnap.com
Action code 0503, the whole station to buy TS-x53B, to create 10GbE home environment is not a dream Event time: May 3, 2017, 12:30 start admission
Venue: Taipei International Convention Center (TICC) 1st Floor – 101CD Meeting Room (No. 1, Xinyi Road, Xinyi District, Taipei)
QNAP has been pushing advanced features, like VM, 10GbE, and SSD Caching for a long time. Making this 10GbE switch is a step to complete their 10G product line.  As 10G switches is now getting cheaper and cheaper (for example Buffalo recently released 2 10GbE switches, which could also run 2.5G and 5G, for ~$880 (12 ports) and ~$570 (8 ports)), upgrading to 10G is getting cheaper and cheaper. Also I like the mixed port design, which you need not to choose between going SFP/SFP+ or RJ45. It could potentially saving money upgrading network adapters and cables. On spec the switch looks great, and I hope their switches in the future will follow this mixed ports design, with more and more ports.
https://www.qnap.com/static/landing/2017/10gbe-ready-event-0503/index.html (in Chinese)